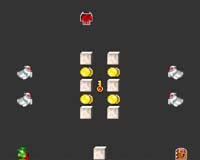 Solomons Key
- This classic is still nice to play today, inside a browser window with flash.
For those don't know this game: it is an old tecmo coin-op released in 1986.
Use arrow keys to move and CTRL to create/remove blocks, you have to pick up the key to open the door for the next level.. and if you are blocked, use your head.